12/21/10 –
Mesquite 60 degrees.
Wake up at 4:53, 7 minutes before my alarm goes off.
DEXTER THEME plays because it's my alarm, every morning.
I get up at 5:16, shower and grab a left over Diet Coke in the fridge for the morning medication. I pour a left over Diet Dr. Pepper in the Arby's cup and mix the 2 drinks.
In my 2002 Jeep, I bought a few months ago, and the first song of the day is The Cure on "80s on 8".

The Cure – Friday I'm In Love
Uploaded by manon42. – Music videos, artist interviews, concerts and more.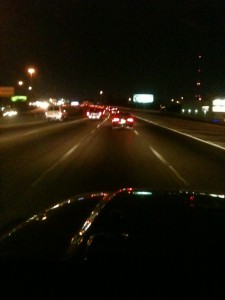 At work, 6:12.
38 personal emails. 11 work emails.
The first call I take is for a password reset to our financial system. User have had the capability to do this themselves for about 2 years. They still call. They still think they type it in correctly. They are always wrong. I waste most of my day taking this very call. I describe where to go to do it themselves. I will always get called back when they have to do it again.
I clean out work email which is an avalanche of passed work. One employee quit recently and I inherited his work. A new employee finally got his vacation this week and is using it so I get all his dumped work.
I play Howard Stern in my left ear while I work.
User calls back because he can't reset his won password. 75% of these calls are Sales people. 25% are just dumb people that don't know how password resets work. They are usually older and don't use the Internet. This guy is a Sales guy. I hate Sales guys.
Breakfast continues from the desk. Low sugar Pop Tarts that sit in a drawer.
I attack the new employee's work that has been passed to me.
Install a new hard drive for a user. Windows 7 image. Never worked. Stuck between repairing and booting normally and neither worked. This now becomes working with my manager on another fix for this user. My manager is pretty easy going and that's what I love most about my job.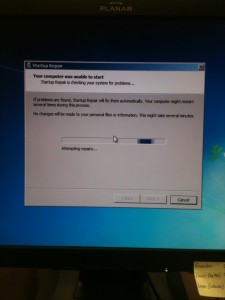 First tweet of the day, "@sarahEmagee @kyle1point0 @mcgaritydotme Bubbles? Michael Jackson's monkey?" I was replying to
"@kyle1point0 @mcgaritydotme @clay_harrison Y'all. Srsly. Me = bubbles." from @sarahEmagee
First call out of the day is to an Office Manager. She's an over-laugher. I have to turn the volume down. She's one of the older users. She needs me to copy documents from a DVD to her hard drive. I know a lot of my job is hand holding and walking users through the easy stuff. The easy stuff is unknown to them and really anything you don't know now a days is something you fear.
Most of my morning is booked with calls and tickets to resolve. I get one calls that takes a long time and allows me to browse through my Tumblr account. Tumblr appears to be where all the kids are. It's neat and the haters are few. It's full of optimistic views. By kids, I mean 20 somethings. I find a lot of humor there as well as movie references. I love the comic art that is posted. I have very little to say there but enjoy the peace and quite. I am just an observer.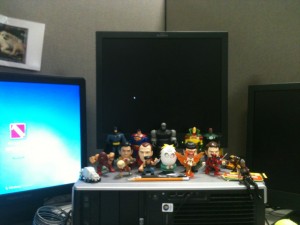 Diet Cherry Dr. Pepper. Need more than a Pop Tart now but talking to too many people and it seems rude to eat and talk on the phone. I do however deal with this on occasion and people will eat while talking to me. I hate it.
Off the phone and eating a banana. I got a second to post my first Tumblr post.

I love Gremlins. It's also required viewing for the Holidays.
I also find time to share this on Facebook. I also see it's a friend's (from high school) birthday. I click on his name, copy/paste "Happy Birthday!" from someone else's post. (Just because it's quick and I fear misspelling it.)
Normally, it'd be more involved but this is someone I haven't seen since the day of graduation. Doubtful I will again. I just kinda maintain that online friendship and go on.
At this point of the day I try to cut back the tabs open in Chrome. I have a bad habit of opening things I want to read or do when I get on long calls. Current tab count, 5. Threadsy, this post, Google Calendar, Tumblr reply and an article on Randy Quaid. Lots of time waster's there? Yea, I know.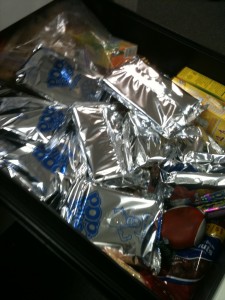 Calls slow down and I'm able to actually work. I do a scan on a hard drive. I pop over to a website to vote for friend's charity. "Friedreich's Ataxia Research Alliance" She too is a high school friend but was at the reunion. I don't really talk to her now but did at the reunion and read about her daughter's illness. It sounds awful.
Slow day on Twitter. Mainly reading. I think because I'm focusing on this, I don't have much to say there.
Day filled with lots of random work. Tuned into the Marvel Press Conference about Fear Itself. Great promotion and looking forward to it. Might be my first monthly digital book. I can't go back to buying then in stores.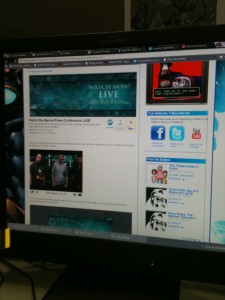 I end up pausing the Marvel conference a couple of times to get deliveries. For some reason the back door phone doesn't ring to me anymore. So after delivering mail, yes I went to college for this, I have to get my phone fixed. For lunch, I choke down left over ribs Lori made and back to work.
Made time to do an email to cover X-Mas activities. It had to be done. UGH! Family shouldn't be work.
So now I spend time in the back receiving old hardware and doing inventory. I notice now that I'm writing all this down how much I eat and drank at my desk. Some tea and another Pop Tart disappear. All the work in the back kicks my ass. People sending in the wrong things. Boxes with no paperwork appear. Most of this is a guessing game.
Remember the laptop I worked on this morning? Well now I get another one that has been imaged and is a complete replacement for the user. I go to swap them out. I hate this part. Small talk while the wheels of Microsoft crank. Slow and tedious as I move docs/shut down/swap laptops and boot back up. So his office neighbor stops by to chat. He loves to fucking talk. BLAH BLAH BLAH. I slowly start to push a bullet into my head hoping he gets the message but nope. While talking we discuss the programs he runs. One program I know for sure doesn't run on Windows 7. Talky office neighbor insist that it does. He should know. He is busy standing in the doorway talking. He works in Finance. He should know shit about IT. So after all the slow sluggish computer shit I head back to check on this program. I walk into a discussion about how people that use this program are NOT to get Windows 7. Feeble attempts are made for a work around but in the end I take his new laptop and replace it with his old laptop. Time in the morning and afternoon were wasted because no one just asked the user what programs he uses. Fuck all to hell.
Back to desk to work security tickets. Short and boring but this is the heart of what I do. I like this stuff better. I turn more Stern on and clean out the tickets I can do.
It's currently 82 degrees in Dallas when I leave work. Fuck.