I've been a customer of Time Warner for 13 years.
My TV/Internet with TW varied.
They constantly offered promotions to keep me. The last bill was $95. Then it jumped to $111. This is the routine with TW. Try to cancel and they offer cheaper rates. Try to change service and they offer cheaper rates. Staying with them at this point is my fault.
I called and complained and they offered me the same with movies for MORE money. I said that's not what I want. Finally agreed to dropping TV and Internet at 20 MB and wiping my past bill of $111 to $44. I had 12 days to return my DVR and was told I could watch what was remaining. Lies. It immediately quit working. I took it in and tried to pay. My bill was now $140. I asked someone for help with my bill. I was handed a post it note with a number for billing problems. 3 customer service reps standing around and doing nothing. You pay at a kiosk. You have a question, they can't help.
I called and lost it on that poor girl, Jana. Tried to cancel but they won't let you. I explained that I had a bill for $44 and was willing to pay but she wanted $140. I tried to reason with her but lost it. You are at the
Then I went to the AT&T store. They wanted $200 bucks to install and $45 a month for 18 MB a month. I complained about the $200. She said she could take $50 off for being a cell customer. Complained on Twitter and AT&T contacted me. Dropped the $200 and gave me Internet for $45 a month with 18 mb. Installing that week. TW has robocalled me to collect on what they now say is a $280.00 bill that I will never pay. I've been warned that TW will attempt to ruin my credit. After the financial disaster that was my marriage, I can't afford to take another hit. I worked too hard to clean it up.
The day before AT&T was to install, I was was called by TW. The rep, Fred (ID 8RF) actually listened and understood my problem. He said he'd take care of me and get me to someone that could address my problem. I was still going to change service but pay the $44 bucks I owed at this point because that's what I agreed to do.
Stupid me. Thinking someone at TW was helpful. I was blind transferred to Kijuan (ID YUN). I ran through the whole story again. She went through my bill. She claimed that they can't close my account until I return the modem I have with them.
The problem is I own my modem. I have been through 2 modems while with TW. After talking with Kijun for sometime, I discovered I was paying for my own equipment for years. She wouldn't fix the error. She claimed that only her manager would be able to credit that much. She said I would receive a call from her manager, Glenn Boone, within a week.
A week has passed. Nothing but robocalls and emails to collect on a debt that is not my fault. Hell, I might even be owed money but can't get a manager to talk with me.
UPDATE: I linked to this post on Time Warner's Facebook page. Below is the communication with their social media guru.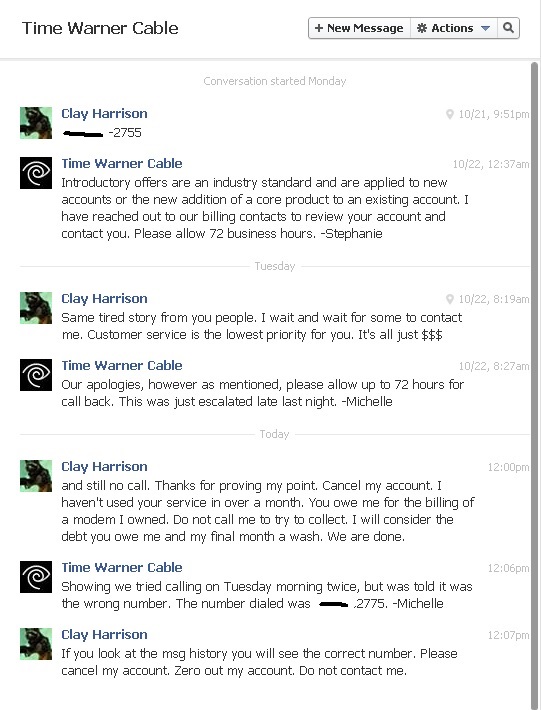 UPDATE 2: Took at robo call at 2:25 today to try to cancel again. Was told I was talking with the wrong department. "Here let me transfer you" was the last thing I heard before my call was dumped. Can you hire hostage negotiators?