Why inventory all your junk?
It's the art of "GTD". Getting Things Done.
Cause all the clutter just slows you down. Declutter your life with this little tip I got from Lifehacker.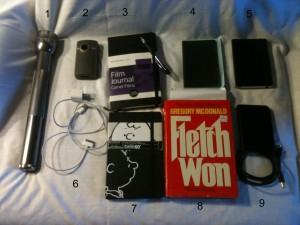 1. Flashlight – Since I got a Jeep, I have to keep everything in my backpack. This is the most necessary item.
2. Flip video camera – I may not use it a lot but it's small.
3. Film Journal Moleskin – My new addition for 2011.
4. Small Moleskin – for notes and quick "To-Do" list.
5. Large Moleskin – Thicker for writing. Notes on stories and dialogue.
6. iPhone USB charger and plug.
7. Charlie Brown Moleskin – for drawing. I wanted to start drawing again so I got this for that reason.
8. Book of choice – Usually a graphic novel but trying to read more traditional books.
9. 320 GB Western Digital and USB cord. I haven't completely moved to the cloud but like having my data with me.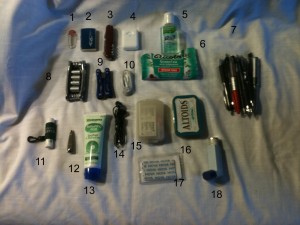 1. Flint for the Zippo.
2. Zippo – I don't smoke but carry this.
3. Swiss Army Knife.
4. Floss.
5. Purell – Because I know where my hands have been.
6. Cough Suppressants – Usually carrying them in the Winter.
7. PENS! PENCILS! and 1 Sharpie – uni-ball Signo Gel 207 Retractable Roller Ball Pen, Medium Point, Translucent Barrel, Black Ink. Mechanical pencils. 1 Red Sharpie.
8. and 9. Stanley Tools Mini Multi Tool Gift Set with Socket Set. Just got this for X-Mas as my Leatherman broke. I've been through 2 of them.
10. Extra headphones.
11. Lip balm.
12. Nail clippers.
13. Lotion. Hey, I get dry skin.
14. More extra headphones.
15. MEDS! I usually carry something for anything that ails me. Rx are usually kept in their bottles. These are OTC.
16. Altoids – Lori hates them cause of the sugar but when you need them,you need them. Also people around you may NEED them.
17. Eye glass cleaner.
18. My puffer. Yes, I have asthma.
So in doing this inventory, it forced me to get rid of junk in there I didn't use. Extra books I wasn't reading. Old meds. Clutter. I also didn't list my wallet, iPhone or Zen cause I usually have those on me. Hopefully next year I can reevaluate this and see if I need something or drop what I haven't used.