Why inventory all your junk?
It's the art of "GTD". Getting Things Done.
Cause all the clutter just slows you down. Declutter your life with this little tip I got from Lifehacker.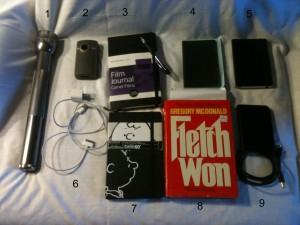 1. Flashlight – Since I got a Jeep, I have to keep everything in my backpack. This is the most necessary item.
2. Flip video camera – I may not use it a lot but it's small.
3. Film Journal Moleskin – My new addition for 2011.
4. Small Moleskin – for notes and quick "To-Do" list.
5. Large Moleskin – Thicker for writing. Notes on stories and dialogue.
6. iPhone USB charger and plug.
7. Charlie Brown Moleskin – for drawing. I wanted to start drawing again so I got this for that reason.
8. Book of choice – Usually a graphic novel but trying to read more traditional books.
9. 320 GB Western Digital and USB cord. I haven't completely moved to the cloud but like having my data with me.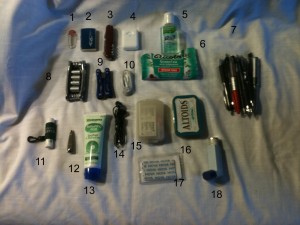 1. Flint for the Zippo.
2. Zippo – I don't smoke but carry this.
3. Swiss Army Knife.
4. Floss.
5. Purell – Because I know where my hands have been.
6. Cough Suppressants – Usually carrying them in the Winter.
7. PENS! PENCILS! and 1 Sharpie – uni-ball Signo Gel 207 Retractable Roller Ball Pen, Medium Point, Translucent Barrel, Black Ink. Mechanical pencils. 1 Red Sharpie.
8. and 9. Stanley Tools Mini Multi Tool Gift Set with Socket Set. Just got this for X-Mas as my Leatherman broke. I've been through 2 of them.
10. Extra headphones.
11. Lip balm.
12. Nail clippers.
13. Lotion. Hey, I get dry skin.
14. More extra headphones.
15. MEDS! I usually carry something for anything that ails me. Rx are usually kept in their bottles. These are OTC.
16. Altoids – Lori hates them cause of the sugar but when you need them,you need them. Also people around you may NEED them.
17. Eye glass cleaner.
18. My puffer. Yes, I have asthma.
So in doing this inventory, it forced me to get rid of junk in there I didn't use. Extra books I wasn't reading. Old meds. Clutter. I also didn't list my wallet, iPhone or Zen cause I usually have those on me. Hopefully next year I can reevaluate this and see if I need something or drop what I haven't used.
I head home a little after 3. This is the other nice about my job. Leave early. Home early. Little to no traffic at this time too.
At this point I get home and take care of the dogs and this blog experiment falls apart.
I attempted to take a picture every hour but that failed cause work got crazy.
I let other people frustrate me so then this project got harder. Also I actually had plans that night so it was going to get harder. I got home and got busy and lost it.
I couldn't finish.
I had to meet Terry for dinner and then get in line an hour ahead of it's start. Oh, I had passes for Green Hornet which didn't open until Jan 2011. We met at Gloria's for Mexican and drinks.
Lots of drinks.
So many drinks that we were late to our own deadline. Too late to get into the movie.
I want to see this movie. I'm kinda excited. I've only heard bad things so my expectations are pretty low. I only knew Green Hornet from the show. I recently started reading the Kevin Smith run, from his unused script. Damn shame because I've lost a little respect for Kevin lately but really enjoyed his take.
We get in line. They count off the people and we are so late and so far back at the end of the line it seemed pointless.
Terry wants to leave.
I want to stay.
He took off to go watch something at home and I'm sure I can get in and just sit in the isle.
No fucking way. As little regard as most theaters have for what customers do in the theater, the companies that put them out had tough security. Guards were at the end of the line and at the door. Your phone was taken and bagged and tagged. I gave up quickly.
Since I had spent so much time and was in already I ducked into Black Swan.
Wow, not a movie you want to see all fucked up but great flick.
Anyhow, I hope to follow this up again at some point and just note what I do the remained of the day. Not that it's exciting or anything. All in all it's pretty boring but it forces me to look at things and that's the interesting part.
I see that I let other people bother me. I bet it's just a blip in their day but I let it get to me. Also, I tend to let my stuff slide to the back instead of finishing it. This being a part of it but also this follow up post to explain it. It's forced me to write so I like the exercise of writing a day down.