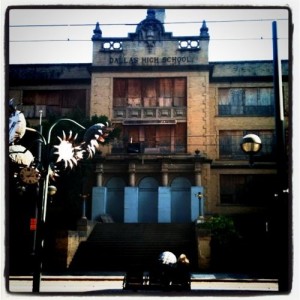 I've parked next to this building every day for the past 5 years.
2214 Bryan Street
Dallas High School is what the building says. It's got a long history of names.
1884 – Central High School –
Found this on the school –
In June 1984, the Dal-Tech Alumni Association celebrated the 100th anniversary of the first public high school in Dallas. Private schools have been established in the area in the 1840s and 1850s, but it was not until 1884 that Public Education became a concern. In that year, the city purchased the Dallas Female Academy on Bryan Street between Peal and Kawkins and renamed the school Central High School. While the building was being renovated classes were held in rented space on Elm at Akard Street. The building was ready in 1886 and the first graduates received diplomas in 1887. In 1908 a new building on the same site was completed and the name changed to Dallas High School. Although the name changed several times since 1908, and various improvements and enlargements have been made, the site has been continuously used as a public school.
and this –
Originally called Dallas High School, it was built to replace Bryan High School, a wooden structure named for Dallas founder John Neeley Bryan, in which classes continued to be held while the new building was under construction.

1908 – Dallas High School
1916 – Main High School
1917 – Bryan Street High School
1928 – Dal-Tech High School
1942 – N.R. Crozier Technical High School –
During the racial segregation of the 1950s, Crozier Tech also became the designated school for white students removed from the Forest Avenue High School after Forest High was designated for colored students and renamed James Madison High School.
Once vacant, the school alumni organized, attending 44 public meetings in hopes of designating their school a city of Dallas historic landmark. During this process, a California investor purchased the building with plans to knock it down for a parking lot. But the alumni prevailed, and Crozier Tech was saved from the wrecking ball. Now, it sits empty, boarded-up with no plans for redevelopment. – via Shawn Williams at Dallas South News
I found some more details about the California investor and what plans were made. (from 2001) –
Plans call for at least three or four "white tablecloth" restaurants, a small grocery store and other retail and service shops on the 5.8-acre site of the former Crozier Tech High School.
The tract, located on Bryan Street between Central Expressway and Pearl Street, is owned by a limited partnership called 2218 Bryan St. Ltd. Headed by a California investor named Robert Yu, the partnership reportedly paid $6.1 million for the site in 1998. – via – Christine Perez and Lisa Tanner at The Dallas Business Journal
Crozier Tech became a city-designated historic landmark in 2000. Preservation Texas added the old Dallas High School to its Inaugural List of "Texas' Most Endangered Historic Places" in 2004, also making their list of "Most Endangered Resoucres" just last year. The National Register of Historic Places has also listed the school under the Dallas High School Historic District. – via – Kristy Chu at NBCDFW.com
Their mascot was the (Tech) Wolves.
1972 – 1995 Business Magnet School –
It was closed in 1995. The school relocated to Townview Center May 1995.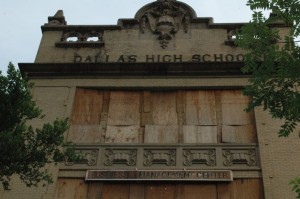 This is the oldest remaining Dallas High School.
During the 1980s the building had the dubious distinction of being used as one of the sets for the movie "Robocop."
Dal-Tech Alumni Association, N. R. Crozier Technical High School of Dallas, Texas Web Site

ALMA MATER
Hail to thee, our Alma Mater;
Tech, our greatest pride.
In whose halls we now are learning
Storms of life to ride.
Lift the chorus; speed it onward;
Raise it to the skies.
Hail to thee, our Alma Mater.
Hail, all hail, Tech High.
As of this writing, there are no plans for the building.